Podcast
Choose a media to play.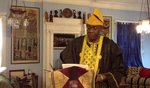 Unity in Diversity, Unity in Concert and Regression Potential
Dr. Muoyo Okome's Keynote address to the 52nd Annual Scientific Conference and Annual General Meeting of the Nigeria Society of Physiotherapy which held in Benin City, Edo State, Nigeria, November 1, 2012. Dr. Okome was unable to travel to Nigeria to deliver the speech because of flight cancellations and closure of JFK Airport due to Hurricane Sandy. He therefore spoke to the conference from his living room in Brooklyn, New York. Enjoy!